Five Minor Kitchen Details That Make A Major Difference
The "big-picture" and overall design has always taken center stage during a kitchen remodel, but our clients are finding that it's the small details they love most in their updated kitchens. New technologies, space saving options, and a trend toward green living offer a highly functioning, seamlessly connected, and healthy kitchen that is as innovative as it is beautiful.
At Dale's Remodeling's we've broken down a modern kitchen into the most used task areas to showcase modern features you'll want to integrate into your next kitchen remodel.
High Performance Food Prep Areas
The time it takes to whip up a meal can be cut in half if your kitchen is designed to perform efficiently. Dale's Remodeling recommends taking a cue from restaurant kitchens by creating a food prep area with the some of the coolest (and overlooked) features to add efficiency. You may think "I don't need a dual sink and touch-free faucet" until cousin Betty walks in to help with that counter covered in dirty dishes. An under-mount prep sink is equally valuable anytime you're not alone working in the kitchen, and who ever is? Top it off with stain resistant countertops, so durable that a blazing pot you just took off the stove won't cause damage, now you've got a true jumpstart on prep and cleanup.
Smart Appliances
The future is now! Bring the ease of modern technology into your kitchen through energy-efficient, fully automated appliances. Keep your grocery list updated via an LCD screen and keep an inventory of your items, alerting you when items are running low or about to expire just by scanning your receipt. Speed up cooking time with an induction cook top or install a pot-filler faucet near the stove for convenience. The latest tech savvy appliances can even notify you if you've left the house with the oven still on!
Storage Efficiency
There's no excuse for inaccessible cabinet space anymore. You'll find plenty of room for all your kitchen supplies with a variety of custom-made storage solutions. Above appliance pullouts turn hard to reach cabinets, like above the refrigerator, into functional space with a door-mounted shelf that pulls out and down.  The blind corner optimizer means no more wasted space or forgetting something forever lost in the dark recesses of that darn corner cabinet. The shelving unit pulls out making those items and space accessible once more.
Take advantage of every square inch of space with  deep drawers for pots and pans and customized fold out pantries that will have all your ingredients ready and waiting for you when the recipe calls for them.
Information Stations
Do you love finding new recipes on Pinterest? Do you help your kids with homework while getting dinner on the table? Streamline every task with seamless Internet connectivity and the right lighting to handle everyone's workload for years to come, and install the right lighting for all the jobs. Everything tends to wind up on the kitchen counters; from the phones, tablets and laptop cords being everywhere, it's a safety hazard! Organizing these electronics into a convenient space is one of the simplest and far-too-often overlooked options available. USB wall outlets are becoming the new standard. Keep it simple by designating an easy-access drawer to house your electronics for charging, or dedicate a bit more space for a full information center installed with USB wall outlets, cubbies, key hooks and even cork board for when you want to keep it old school and leave a post-it!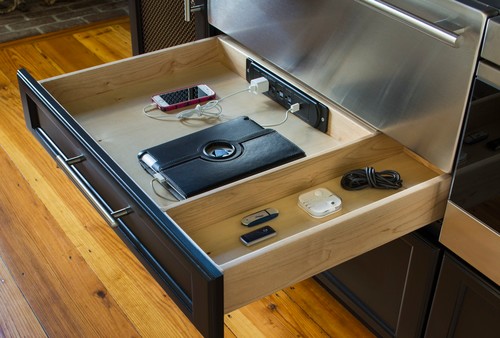 Garbage, Recycling, and Composting
Don't let the nasty smell of food waste spoil your next meal. Air switches over the garbage disposals and exhaust hoods with automated fan speed technology will not only keep your home smelling fresh, they will also help remove airborne bacteria and allergens, providing a fresh and safe environment for your family.
Avoid being stuck in yesterday's kitchen when a few small details will give you the kitchen of tomorrow, today! Stop by Dale's Remodeling's Commercial Street Showroom or take a look at our kitchen inspired Houzz Ideabook to see all the latest technology and design options we can incorporate into the kitchen of your dreams!